SAFETEP For Advertising And Luminescent Inducement Sign
Products
SAFETEP For Advertising And Luminescent Inducement Sign
Advertising SAFETEP include the nonslip function and the advertising function of company's landmark.
Insertion Advertising Nonslip Stair Nosing
You can cut a detachable groove of Hangul "ㄱ" shape on a nonslip right angle slope to display an interior design and landmark using panels with diverse materials, printings, and designed phrases.
You can insert many different advertising copies with low cost and easily change with other panel because it is detachable.
Features

- Easy maintenance because of its
detachable structure
- Diverse advertising copies with low cost
- Semipermanent ceramic material
- Diverse colors application
Printed Advertising Nonslip Stair Nosing
Non-slip abrasive can be expressed on the surface of a variety of patterns and fonts.
Features

- Corporate CI, BI image can be represented.
Luminescent Inducement Sign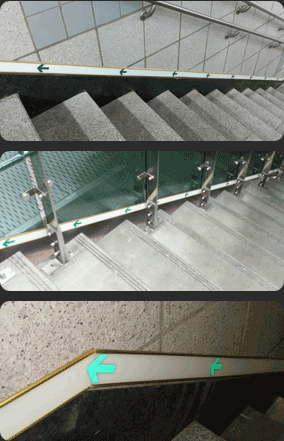 The high luminance phosphorescent inducement sign is attached to the wall of stairs to induce evacuation.
Features

- No disharmony due to aluminum base with luxurious colors.
- Installation on the side of glass and iron due to easy
detachable method.

Size

- (Width) 55 mm x (length) 1,000 mm (Size can be changed
depending on the request.)

Installation Results

- Busan Transportation Corporation in 2013 : luminescent
inducement sign construction in deep depth and transfer station
for subway line No. 1 and 2
- Luminescent inducement sign construction in Mulmangol Station
of Busan subway No. 3 in 2011.